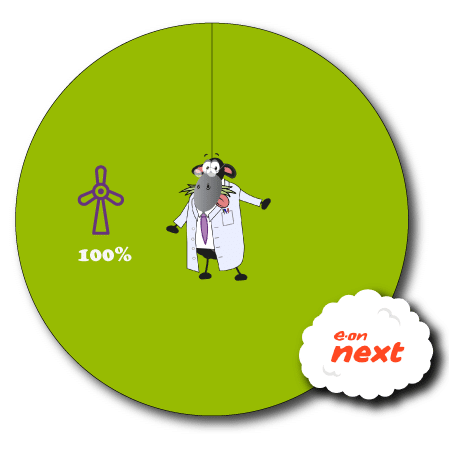 EON Next
Current Fuel Mix Disclosure: 100%.
CO2 Emissions: 0g per kWh – Radioactive Waste: 0g per kWh
WE WORK WITH EON NEXT AND 30 OTHER SUPPLIERS
EON Next Head Office Address:
Westwood Business Park
Westwood Way
Coventry
CV4 8LG
UK
EON Next Company Number: 03782443
EON UK PLC VAT Number: GB559097889
EON Next – Company Information:
EON next was formed following the takeover of Npower by EON in January 2019.
Npower started out as Innogy Plc in October 2000 before being taken over by the German energy company RWE in March 2002 when it then also took on the Npower brand.
In 2016 RWE separated the natural gas, coal and oil-fired power stations to become part of RWE Generation UK PLC, with the network and retail businesses becoming Innogy SE which Npower Limited (Npower) became a subsidiary of.
The takeover in 2019 was made by E.ON – based in Essen, Germany which is one of the largest investor-owned electricity service providers in the world.  Created in 2000 after the merger of VEBA (Vereinigte Elektrizitäts und Bergwerks Aktiengesellschaft or "United Electricity and Mining Corporation) and VIAG (Vereinigte Industrieunternehmungen AG; United Industrial Enterprises Corporation).
What is EON Next's Address?
The EON Next head office address is: Westwood Business Park, Westwood Way, Coventry, CV4 8LG
What is EON Next's Company Number?
EON Next's company number is 03782443
What is EON Next's VAT Number?
EON UK PLC VAT number is GB559097889
What is EON's Fuel Mix?
The current EON Next Fuel Mix is 100% Renewable
LET US COMPARE YOUR ENERGY PRICES FOR YOU – SEE HOW MUCH YOU COULD BE SAVING
For more information
If you'd like to find out more about switching supplier or if you'd simply like us to compare prices for you as part of our no-obligation comparison service, phone us on
01273 914000
Alternatively, you can request a call back by clicking the button below and one of our energy experts will call at a time chosen by you.