Customer Service Advisor - Brighton
Are you a Customer Service Advisor superstar?
Are you confident on the phone, meticulous with detail, proactive and tenacious?
Do you get that special, warm fuzzy feeling when you provide an outstanding customer experience?
If so, we would love to hear from you!
Black Sheep Utilities are a business to business 'B2B' energy procurement service. Every one of our customers receives support from our outstanding Customer Services Advisors who will handle any queries regarding their portfolio of products through the customer lifecycle right up until their renewal. We are looking for another member of the flock to support this part of the customer journey.
MAIN DUTIES AND RESPONSIBILITES
Inbound and outbound calls with customers to discuss queries and complaints with utility contracts, supply and billing issues.
Using the details from the record and gaining new relevant information to take ownership and follow both internal and external processes to promptly resolve queries.
Liaising with various suppliers to resolve queries.
Ensuring customer records are detailed and up to date.
Welcome calls to new and renewed clients to ensure they have received all relevant information taking the opportunity to upsell and identify other potential business. (For this part, you can earn commission!!!)
Proactively book in additional meters.
Pre book renewal calls.
Collating data files for requests and complaints.
General administration and ad hoc duties as and when required.
To uphold the Black Sheep Utilities values in all aspects of your work and day to day interactions.
Previous Customer Service experience is essential. Industry knowledge would be advantageous, but is not essential.
You must be able to commit to the flock family… we are pretty full on! We like to be social, participate in games, incentives and other events.
With healthy growth ambitions for the future, it really is a great time to join us on our journey. In return, you will receive a generous basic pay, opportunities to earn commission and career progression opportunities.
Ok, that's enough bleating on, (oh, you MUST like sheep pun's!!) If you are ready to become 'outstanding in your field' with a job in Brighton and Hove then apply to join the flock now!
If you've got what it takes and are looking for a Customer Service role in Brighton and Hove then don't hang around, join the Flock today!
If you're interested in this position please send your details and an up to date copy of your CV to recruitment@blacksheeputilities.co.uk or complete your details in our application form.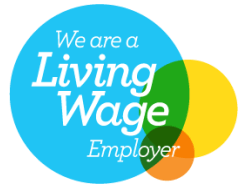 About Black Sheep Utilities
WE ARE OUTSTANDING IN OUR FIELD SO THAT OUR CUSTOMERS CAN BE OUTSTANDING IN THEIRS!
Black Sheep Utilities provides a client focused market comparison service for businesses throughout the UK. Trusted by business large and small to deliver tailored utility packages year after year.
Our current available jobs in Brighton and Hove also include the role of Account Manager and Telesales Executive.
How do we help our customers?
In an industry with complex tariffs and a plethora of suppliers, choosing the best available contracts can be a time-consuming project. All too often businesses end up auto-renewing or going onto uncompetitive variable rates.
We stop that happening by offering a hassle-free independent consultancy service with truly superior value and after sales care. Outstanding!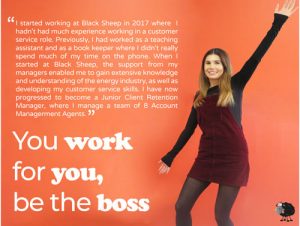 Job Types: Full-time, Permanent
Salary: £22,000-£26,000 per year
Additional pay:
Benefits:
Additional leave
Casual dress
Company events
Company pension
Store discounts
Wellness programmes
Schedule:
Monday to Friday
No weekends
Experience:
customer service: 1 year (preferred)